WASHINGTON, DC, May 23, 2023 (ENS) – The Colorado River flows for 1,450 miles across the western United States, carving the Grand Canyon on the way, and into Mexico, where it once flowed to the Gulf of California. Now, after years of drought and human pressure, the Colorado River just disappears into desert sands.
Divided into two regions for water management in the USA, the Upper Basin includes the States of Colorado, New Mexico, Utah, and Wyoming. This older portion is at least seven million years old. The Lower Basin, which takes in Arizona, California, and Nevada is younger – between five and six million years of age, according the National Park Service.
Millions of people, as well as hundreds of species of animals and plants, depend on the river. It provides 40 percent of Colorado's entire water supply, and large U.S. cities such as Denver, Las Vegas, Phoenix, and Los Angeles, drink its waters.
"There are 40 million people, seven states, and 30 Tribal Nations who rely on the Colorado River Basin for basic services such as drinking water and electricity," U.S. Secretary of the Interior Deb Haaland said Monday, as she announced a bipartisan agreement among the seven Colorado Basin states to draw less water from the overstressed river.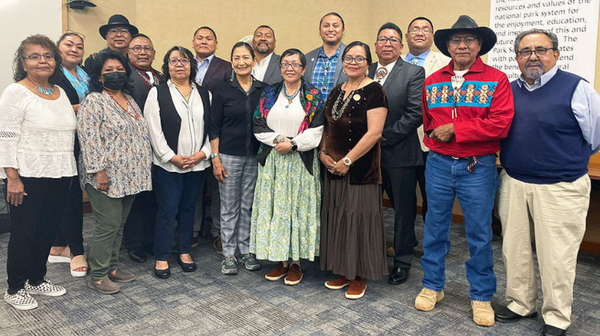 Speaking during a trip to Arizona, Haaland thanked Deputy Secretary Tommy Beaudreau and Reclamation Commissioner Camille Calimlim Touton, who led the discussions with Colorado River Basin Basin state commissioners, Tribes, irrigators, local communities, and stakeholders to reach what Haaland called "this critical moment."
The agreement to draw less water from the river was originally proposed by the governors of the three states in the Lower Colorado River Basin: Arizona Governor Katie Hobbs and California Governor Gavin Newsom, both Democrats, and Nevada Governor Joe Lombardo, a Republican.
On Monday, the Colorado River Lower Basin States formally proposed a plan to conserve three million acre-feet by 2026 to protect the Colorado River system.
In a letter to Secretary Haaland on May 21, the Lower Basin governors described the benefits of their proposal as, "measurable, verifiable, and enforceable water conservation volumes that provide immediate and substantial support for the Colorado River."
"The proposal's emphasis on early and large contributions reduces the risk of Lake Mead and Lake Powell declining to critically low elevations and is accomplished through voluntary agreements with a diverse range of Arizona, California, and Nevada water users that include Tribes, cities, and agriculture," the three governors wrote.
Becky Mitchell, Colorado's rep on the Upper Colorado River Commission, said May 22 that the four Upper Basin states: Colorado, New Mexico, Utah, and Wyoming, "have not had an opportunity to review and analyze the Lower Basin proposal in detail, and therefore cannot endorse the proposal at this time," Commissioner Mitchell and her staff will continue to analyze the proposal in the coming weeks to understand impacts on the System. "Any viable proposal must show measurable and binding reductions in use."
"The wet winter has given us a bit of space to negotiate, but we must not squander this gift from Mother Nature," Mitchell said. "We look forward to better understanding what enforceable, binding water conservation agreements the Lower Division States may be able to provide. While temporary solutions are beneficial, we must continue to focus on the long-term goal of sustaining the system."
In a May 22 letter to Reclamation Commissioner Touton, representatives of the governor's offices of all seven states wrote, "The Seven States recognize that having one good winter does not solve the systemic challenges facing the Colorado River. We strongly encourage Reclamation to advance the process for the development of new operating guidelines replacing the 2007 Colorado River Interim Guidelines for Lower Basin Shortages and the Coordinated Operations for Lake Powell and Lake Mead at the end of 2026."
"The Lower Basin Plan is the product of months of tireless work by our water managers to develop an agreement that stabilizes the Colorado River system through 2026," said Governor Hobbs.
"Thanks to the partnership of our fellow Basin States and historic investments in drought funding, we now have a path forward to build our reservoirs back up in the near-term. From here, our work must continue to take action and address the long-term issues of climate change and overallocation to ensure we have a sustainable Colorado River for all who rely upon it," she said.
California Governor Gavin Newsom said, "The entire Western United States is on the frontlines of climate change – we must work together to address this crisis and the weather extremes between drought and flood."
"California has stepped up to make significant cuts to water usage," Newsom said, "and now, this historic partnership between California and other Lower Basin states will help maintain critical water supply for millions of Americans as we work together to ensure the long-term sustainability of the Colorado River System for decades to come."
"Nevada has long been a leader in regional water conservation efforts, and we're pleased to continue leading through this agreement with other Lower Basin States," said Governor Lombardo. "It's never been more important to protect the Colorado River System, and this partnership is a critical next step in our efforts to sustain this essential water supply."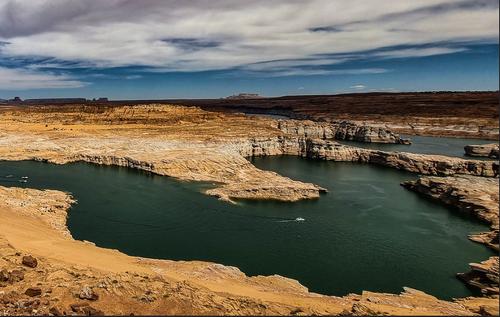 The Lower Basin Plan has been submitted to the Bureau of Reclamation with all Seven Colorado River Basin States supporting its evaluation as an action alternative within the Near-Term Colorado River Operations Draft Supplemental Environmental Impact Statement, usually called a Draft SEIS. Find more information here.
Haaland said the agreement is "a testament to the Biden-Harris administration's commitment to working with states, Tribes and communities throughout the West to find consensus solutions in the face of climate change and sustained drought."
The Department is temporarily withdrawing the draft SEIS published last month so that it can fully analyze the effects of the proposal under the National Environmental Policy Act.
Reclamation will then publish an updated draft SEIS for public comment with the consensus-based proposal as an action alternative.
So, the original May 30, 2023, deadline for the submission of comments on the draft SEIS is no longer in effect. The Department plans to finalize the SEIS process later this year.
Early next month, the Department will formally advance the process for the development of new operating guidelines replacing the 2007 Colorado River Interim Guidelines for Lower Basin Shortages and the Coordinated Operations for Lake Powell and Lake Mead at the end of 2026.
In the coming weeks, Reclamation will publish the Notice of Intent for the Environmental Impact Statement related to the post-2026 guidelines, satisfying a specific request of the seven states in their letter of the Reclamation commissioner.
Seven States Proposal Meets Biden Investment Agenda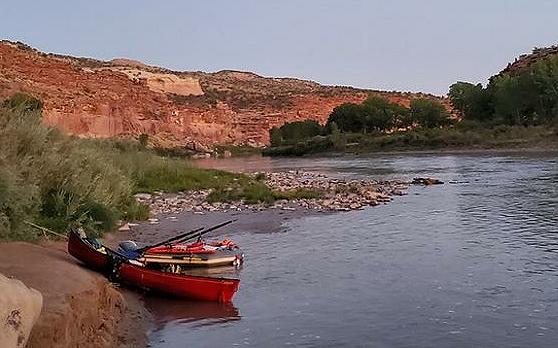 President Biden's Investing in America agenda represents the largest investment in climate resilience in the nation's history and is providing pivotal resources to enhance the resilience of the West to drought and climate change, including to protect the short- and long-term sustainability of the Colorado River System.
Through the Bipartisan Infrastructure Law, Reclamation is investing $8.3 billion over five years for water infrastructure projects, including water purification and reuse, water storage and conveyance, desalination and dam safety. The Inflation Reduction Act is investing an additional $4.6 billion to address the historic drought.
To date, the Interior Department has announced investments for Colorado River Basin states, that the agency says will yield "hundreds of thousands of acre-feet of water savings a year" once these projects are complete:
– $281 million for 21 water recycling projects that are expected to increase annual water capacity by 127,000 acre-feet annually
– Up to $233 million in water conservation funding for the Gila River Indian Community, including $83 million for a water pipeline project and an additional $50 million from the Inflation Reduction Act through the Lower Colorado River Basin System Conservation and Efficiency Program, which will also provide similar investments in 2024 and 2025
– Over $73 million for infrastructure repairs on water delivery systems, $19.3 million in fiscal year 2022 and another $54 million announced last month
– $71 million for 32 drought resiliency projects to expand access to water through groundwater storage, rainwater harvesting, aquifer recharge and water treatment
– $20 million in new small surface and groundwater storage investments
Drought Has Drained the Colorado River
The water conservation plan is driven by is a 20-year-long drought that dried the reservoir Lake Mead, to its lowest level in history. Arizona, California and Nevada, the three states that rely on Lake Mead, have worked for years on how to share cuts to avoid a crisis. Yet even so, the past three years of drought have been punishing.
Due to low water levels, in August 2021 the federal government declared a Tier 1 water shortage in the Colorado River for the first time, cutting the amount of water that Arizona, Nevada and Mexico can draw from the river.
"The Tier 1 shortage declaration highlights the challenges facing the Colorado River Basin; however, this did not come as a surprise," Taylor Hawes, The Nature Conservancy's Colorado River program director said. "The Colorado River has witnessed a steady decline in flows since 2000 that impacts communities, agriculture, industry, and the health of our rivers in the region. Even as flows decreased, our demand reductions have not kept pace."
Although this past winter and spring brought rain and snow to California in abundance, warmer El Nino conditions are forecast for the next several years in the eastern tropical Pacific Ocean, and that means hotter, drier years ahead.
With winter storms increasing the availability of water supplies that were limited during the drought, on March 27, the Metropolitan Water District of Southern California marked a major milestone as it began refilling southern California's largest reservoir for the first time in three years.
Metropolitan and state officials met at Diamond Valley Lake to share the actions underway to maximize the amount of water stored in depleted reservoirs and groundwater basins – and to encourage Southern Californians to continue conserving water.
"Our water supplies have improved dramatically after three years of record-breaking drought," California Secretary for Natural Resources Wade Crowfoot said. "While we've been blessed with abundant rain and snowfall this year, it's only a matter of time before we experience another dry cycle. We need to press forward with Governor Newsom's water supply strategy for a hotter, drier future. This includes continuing to invest in facilities like Diamond Valley Lake to capture and store water during really wet winters for use during extended dry periods."
As climate change increasingly causes weather extremes, the Metropolitan Water District has shifted its operations, from stretching severely limited water supplies, to now storing as much water as possible in preparation for the next inevitable dry period.
"With the help of these recent storms, and the continued efficient water use of Southern Californians, we expect this year to be able to nearly replace all the withdrawals from storage we made over the past three years," Metropolitan General Manager Adel Hagekhalil said. "We need to save every drop we can for the next dry cycle, which could be even more severe than the last one."
"The consensus plan announced today is a major step in the right direction. But once the agreements are finalized, we must turn our attention to the much greater challenge ahead: developing long-term, post-2026 solutions to the imbalance on the river," Hagekhalil said. "Only by working together through collaboration and negotiation were we able to develop today's short-term solutions that will immediately leave water in lakes Mead and Powell and avoid lengthy legal battles. We must continue that collaborative and cooperative approach as we begin the critical work ahead."
Featured image: The Colorado River's Horseshoe Bend, Page, Arizona, September 16, 2021 (Photo by Marty Bower)
Environment News Service (ENS) © 2023 All Rights Reserved.