WASHINGTON, DC, June 9, 2023 (ENS) – The U.S. Justice Department has secured a settlement agreement in its environmental justice investigation into the City of Houston's response to illegal dumping in Black and Latino neighborhoods. The agreement builds upon the city's recently announced One Clean Houston initiative, a comprehensive plan to address pervasive illegal dumping and its negative impacts on the health, safety and quality of life of Houston residents.
Reached June 6, the agreement memorializes the city's cooperation with the Justice Department as it implements these new steps to combat illegal dumping and develops improved waste management services for residents across Houston.
The ditches along Groveton Street and Jutland Road in Houston's Sunnyside neighborhood are known for illegal dumping. The city has surveillance cameras in the area and signs warning violators of financial penalties that the city has recently doubled, but residents say those measures have not been working and piles of trash have been there for months.
"Houston's illegal dumpsites have contaminated water and soil, attracted vermin and created blight in historically under-resourced neighborhoods across the city," said Assistant Attorney General Kristen Clarke, the first Black woman to head the Justice Department's Civil Rights Division.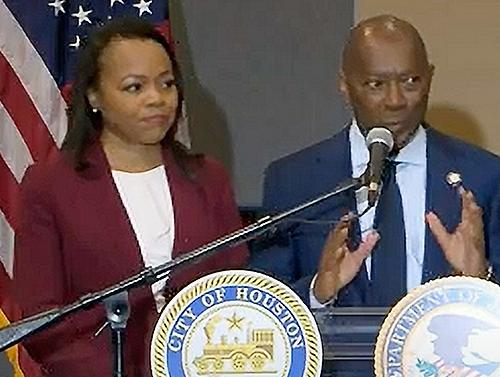 "To me, this is personal," Mayor Turner said. "I grew up and still live in these neighborhoods, and my life's work has been to lift these neighborhoods. As mayor, I prioritized the needs of communities of color that are historically under-resourced and underserved and built a Complete Communities program that is a model for public-private investment in neighborhood revitalization. I have worked throughout my administration to fight environmental injustice, and to have an allegation like this, despite all we have done and are doing, it is unfair and disappointing," he said.
"With this voluntary resolution, we agree with the Department of Justice to move together as partners towards a solution – to carry forward a shared vision of One Clean Houston.  Today's announcement isn't a time to celebrate, but we can appreciate progress," the mayor said.
 In September 2022, the Houston City Council approved the use of $2.1 million in the General Fund to supplement the Solid Waste Management District's heavy trash and illegal dumping collections program. These funds were used to secure agreements with local private waste haulers to address 311 service requests related to illegal dumping. Since then, the city has abated more than 2,170 dumpsites totaling 28,057 tons.  
"I appreciate Mayor [Sylvester] Turner's leadership in addressing these concerns and his resolve in developing One Clean Houston. This agreement will ensure that Houston fully addresses chronic illegal dumpsites, provides access to adequate waste management services and improves quality of life in communities of color," Clarke said.
Clarke said the Justice Department will continue "advancing environmental justice and ensuring that people of color across our nation live in safe, clean and healthy communities."
"No one should have to live next to discarded tires, bags of trash, rotting carcasses, infected soils and contaminated groundwater, all caused by illegal dumping," said U.S. Attorney Alamdar Hamdani for the Southern District of Texas. "For too long now, Houston's underserved and low-income communities have had to bear the health burdens of the inaction and misdeeds of others. My hope is that this resolution is an important step in remedying those wrongs."
In July 2022, the Justice Department launched an investigation after it received a civil rights complaint filed on behalf of Houston residents alleging that the city discriminated against Black and Latino residents of the Trinity/Houston Gardens neighborhood in northeast Houston in violation of Title VI of the Civil Rights Act of 1964.
Title VI prohibits recipients of federal funds from discriminating on the basis of race, color or national origin in their federally funded programs and activities.
The department's 10-month investigation focused on Houston's efforts to address illegal dumping, a persistent and pervasive problem that occurs more frequently in the city's Black and Latino neighborhoods.
In March, the city announced its One Clean Houston initiative, which focuses on rapid cleanup, better enforcement and prevention and education.
In addition to confirming the city's commitment to One Clean Houston, the agreement establishes a three-year period of federal monitoring; data reporting obligations; enhanced community outreach with impacted neighborhoods, including engagement with residents with limited English proficiency; consideration of additional actions to combat commercial sources of illegal dumping and reduce restrictions for residents seeking to use waste depositories; and a federal civil rights training program for specified city employees.
The Civil Rights Division's Federal Coordination and Compliance Section conducted this investigation in collaboration with the U.S. Attorney's Office for the Southern District of Texas.
Addressing discriminatory environmental and health impacts through enforcement of the nation's civil rights laws is a top priority of the Civil Rights Division.
People who believe their civil rights have been violated or have environmental justice concerns can file a complaint with the Civil Rights Division at www.civilrights.justice.gov/report/.
Featured image:
Environment News Service (ENS) © 2023 All Rights Reserved.