WASHINGTON, DC, March 9, 2023 (ENS) – Norfolk Southern President and CEO Alan Shaw apologized today during a hearing of the Senate Environment and Public Works Committee for the February derailment of a Norfolk Southern train carrying toxic chemicals in East Palestine, Ohio, just a mile from the Pennsylvania border.
In his opening statement, Shaw told the committee that he has gone to East Palestine, a village of about 5,000, many times since the February 3 derailment and has heard the pleas of affected community residents, many of whom had to flee their homes to avoid toxic smoke and chemicals in the air and water.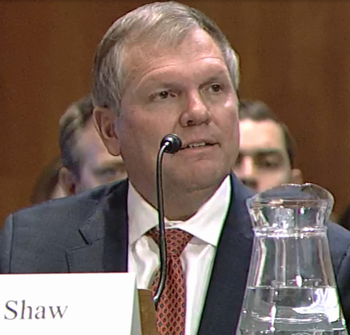 "They've shared their stories and their concerns and the health of their families and the future of the community they love," Shaw said. "I am determined to make this right. Norfolk Southern will clean the site safely, thoroughly and with urgency. You have my personal commitment."
"Norfolk Southern will get the job done and help East Palestine thrive," said Shaw, who has headed the rail company for just 10 months after working there in vice presidential roles since 2009.
"At the direction of, and in collaboration with, the U.S. EPA, state and local agencies, we are developing and implementing near and longer-term cleanup activities," he said.
"Air and water monitoring have been in place continuously since the accident. To date, it consistently indicated that the air is safe to breathe and the water is safe to drink. We have announced direct investments of over $21 million. We have provided support to over 4,400 families," Shaw told the committee.
Federal and state officials have repeatedly said it's safe for evacuated residents to return home and that air testing in the town and inside hundreds of homes has not found any concerning levels of contaminants. But some residents say they're still feeling sick, more than a month after the derailment and release of toxic chemicals.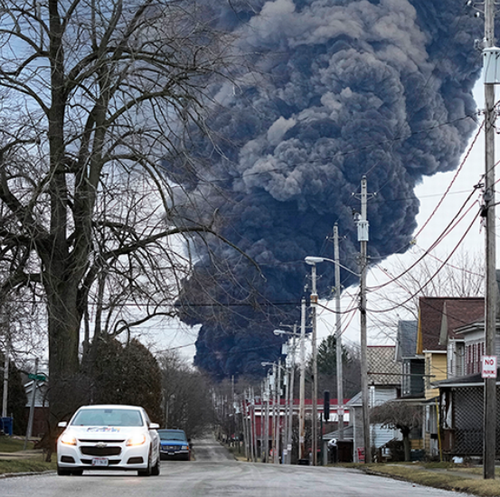 Regardless of the assurances of officials and monitoring instruments, many residents are still experiencing ongoing health problems such as rashes and painful coughing. "Other concerns remain, such as loss of property values and the long-term impacts on our most vulnerable citizens, including children and the elderly," Senator Tom Carper, the Delaware Democrat who chairs the committee, said in his opening statement.
Senator Sherrod Brown, a Democrat who represents Ohio, told the committee that he blames Norfolk Southern's business culture of enriching its bosses and shareholders while cutting costs elsewhere. He said it was that culture that left communities like East Palestine vulnerable to disastrous derailments.
Senate Considers New Bipartisan Rail Safety Bill
Senator Brown was among the three Democrats and three Republicans who introduced a bill last week that would increase civil penalties for railroad safety violations, increase inspections of wheel bearings and create other safety regulations.
The bill's sponsors from Ohio and Pennsylvania: Brown, Ohio Republican J.D. Vance and Pennsylvania Democrats Bob Casey and John Fetterman, all promoted it at Thursday's hearing. Republican Senators Marco Rubio of Florida and Josh Hawley of Missouri were the measure's other original cosponsors. But Shaw declined to support the bill.
THe bill did receive support from the White House. President Joe Biden commended the bipartisan group of senators for proposing rail safety legislation that provides many of the solutions that his administration has been calling for.
"This legislation strengthens safety requirements for all trains carrying hazardous materials, and phases in newer, safer tank cars over the next two years, not over the next decade," the President said. "It will increase safety by requiring hotbox detectors every 10 miles to prevent derailments like the one that we saw in East Palestine."
"It increases HAZMAT fees for railroads to pay for grants to train state and local firefighters and other first responders to respond to hazmat incidents." Biden said. "The legislation will also dramatically increase fines for safety violations from the current cap of $225,000 to the greater of $1 million or 1% of a railroad's annual operating income, which for the largest carriers like Norfolk Southern could be more than $50 million."
"We need to do even more," Biden said, "like require state of the art braking systems, provide more funding for federal safety inspections, invest in worker safety, fortify state emergency management and response, and hold companies like Norfolk Southern accountable not just for the immediate damage, but also the long-term health and economic damage to communities like East Palestine."
I encourage Republicans and Democrats alike to move quickly to advance these commonsense rail safety measures and send me a bill to sign into law.
What Happened to Train 32N in East Palestine
The National Transportation Safety Board has issued a preliminary report that establishes the basic facts of the train derailment event.
On February 3, 2023, about 8:54 p.m. local time, eastbound Norfolk Southern Railway general merchandise freight train 32N derailed 38 railcars on main track 1 of the Norfolk Southern Fort Wayne Line of the Keystone Division in East Palestine, Ohio.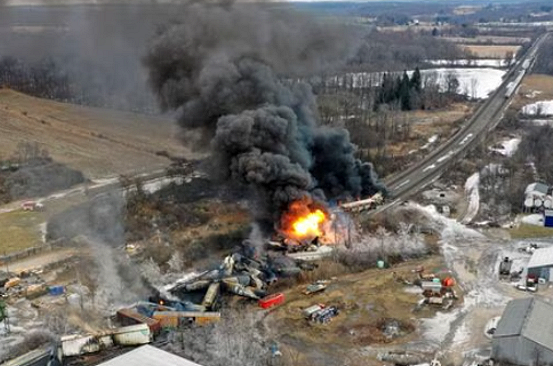 The derailed equipment included 11 tank cars carrying hazardous materials that subsequently ignited, fueling fires that damaged an additional 12 non-derailed railcars.
First responders implemented a one-mile evacuation zone surrounding the derailment site that affected up to 2,000 residents. There were no reported fatalities or injuries. At the time of the accident, visibility conditions were dark and clear; the weather was 10°F with no precipitation.
​Train 32N had two head-end locomotives, 149 railcars, and one distributed power locomotive. There were 20 placarded hazardous materials tank cars transporting combustible liquids, flammable liquids, and flammable gas, including vinyl chloride, linked to cancers.
Train 32N was traveling about 47 mph at the time of the derailment, a little slower than the maximum authorized speed of 50 mph. Train movements near the derailment site are authorized by cab signals and wayside signal indications with an overlaid positive train control system and are coordinated by the Norfolk Southern Cleveland East train dispatcher located in Atlanta, Georgia. The positive train control system was enabled and operating at the time of the derailment.
Train 32N was operating with a dynamic brake application as the train passed a wayside defect detector on the east side of Palestine, Ohio, at milepost 49.81. At that point, the wayside defect detector, or hot bearing detector, HBD, transmitted a critical audible alarm message signaling the crew to slow and stop the train to inspect a hot axle.
The crew found the temperature of the suspect bearing on car 23 was at 253°F above ambient temperature. Car 23 was the first to derail.
On February 5, responders mitigated the fire, but five derailed DOT-105 specification tank cars (railcars 28–31 and 55) carrying 115,580 gallons of vinyl chloride continued to concern authorities because the temperature inside one tank car was still rising, the NTSB reports.
"This increase in temperature suggested that the vinyl chloride was undergoing a polymerization reaction, which could pose an explosion hazard. Responders scheduled a controlled venting of the five vinyl chloride tank cars to release and burn the vinyl chloride, expanded the evacuation zone to a 1-mile by 2-mile area, and dug ditches to contain released vinyl chloride liquid while it vaporized and burned. The controlled venting began about 4:40 p.m. on February 6 and continued for several hours," the NTSB said.
Surveillance video from a local residence showed what appeared to be a wheel bearing in the final stage of overheat failure moments before the derailment. The wheel bearing and affected wheelset have been collected as evidence and will be examined by the NTSB. The vinyl chloride tank car top fittings, including the relief valves, were also removed and examined by the NTSB on scene. The top fittings will be shipped to Texas for testing under the direction of the NTSB.
​​The hazardous material tank cars have been decontaminated. NTSB investigators returned to Ohio on February 21, to examine each hazardous material tank car, document damage, and secure evidence for laboratory analysis.
The NTSB's investigation is ongoing. It focuses on: the wheelset and bearing; tank car design and derailment damage; a review of the accident response, including the venting and burning of the vinyl chloride; railcar design and maintenance procedures and practices; Norfolk Southern's use of wayside defect detectors; and Norfolk Southern railcar inspection practices.
National Traffic Safety Board Digs Deeper
Earlier this week, the National Transportation Safety Board, NTSB, launched a "special" investigation into the "organization and safety culture" at Norfolk Southern, which operates trains in 22 eastern states.
Since December 2021, NTSB has launched investigation teams to five significant accidents involving Norfolk Southern.
On December 8, 2021, an employee for National Salvage and Service Corporation assigned to work with a Norfolk Southern work team replacing track was killed when the operator of a spike machine reversed direction and struck the employee in Reed, Pennsylvania.
On December 13, 2022, a Norfolk Southern trainee conductor was killed, and another conductor was injured, when the lead locomotive of a Norfolk Southern freight train struck a steel angle iron protruding from a gondola car on another Norfolk Southern freight train that was stopped on an adjacent track in Bessemer, Alabama.
On February 3​, a Norfolk Southern freight train carrying hazardous materials derailed in East Palestine, Ohio. The derailment resulted in a significant fire and hazardous materials release.
On March 4, a 2.55-mile-long Norfolk Southern freight train derailed near Springfield, Ohio. No hazardous materials were involved in the derailment.
On March 7​, a Norfolk Southern employee, Louis Shuster, a conductor from Broadview Heights, Ohio, was fatally struck by a dump truck as his train moved through a rail crossing at the Cleveland-Cliffs Cleveland Works facility.
As part of the special investigation, the NTSB will also review the October ​8, 2022, Norfolk Southern derailment in Sandusky, Ohio.
"The continued safe operations of Norfolk Southern is vital to the United States," the NTSB said in a statement accompanying the release of the preliminary report. The agency is "concerned that several organizational factors may be involved in the accidents, including safety culture." The NTSB will conduct an in-depth investigation into the safety practices and culture of the company.
At the same time, the company should not wait to improve safety and the NTSB urges it to do so immediately. Given the number and significance of recent Norfolk Southern accidents, the NTSB urged the company to take action today to review and assess its safety practices, with the input of employees and others, and implement necessary changes to improve safety.
EPA Coordinates, Oversees Cleanup
"Let me be clear," U.S. EPA Administrator Michael Regan said. "Norfolk Southern will pay for cleaning up the mess they created and for the trauma they've inflicted on this community. I'm deeply grateful to the emergency responders, including EPA personnel, who've been on the ground since day one and ensured there was no loss of life as a result of this disaster."
The EPA ordered Norfolk Southern to conduct all necessary actions associated with the cleanup from the East Palestine derailment. As part of EPA's legally binding order, Norfolk Southern will be required to: identify and clean up contaminated soil and water resources, attend and participate in public meetings at EPA's request and post information online, and pay for EPA's costs for work performed under the order.
"As we transition from emergency response, EPA will continue to coordinate closely with our local, state, and federal partners through a whole-of-government approach to support the East Palestine community during the remediation phase. To the people of East Palestine, EPA stands with you now and for as long as it may take," Administrator Regan said.
To address the concerns of residents regarding potential indoor contamination, EPA will offer cleaning services to area businesses and families conducted by EPA staff and contractors. The agency has extensive experience with similar cleaning programs in other Midwestern communities. Under the terms of the order, Norfolk Southern will reimburse EPA for the costs of these cleaning services.
Ohio Governor Mike DeWine said that a medical clinic opening early next week featuring a team of experts in chemical exposures will evaluate residents and analyze their symptoms.
EPA's order, issued February 23, marks the transition of the multi-agency response from its emergency phase to a longer-term remediation phase involving federal, state and local agencies across multiple states.
More than 700 tons of contaminated soil and nearly two million gallons of liquid have been collected from the derailment site and moved to at least seven licensed hazardous waste disposal facilities across Ohio, Indiana, Michigan and Texas.
Officials in Texas and Michigan have raised concerns about the waste being disposed of in their states.
"Why are these materials not being taken somewhere closer? Is there something these jurisdictions know that we don't know?" said Judge Lina Hidalgo of Harris County, Texas, after 30 truckloads of contaminated firefighting water began arriving each day the Houston suburb of Deer Park.
Officials say they are still searching for other disposal sites.
To help implement the order, EPA has a unified command structure to coordinate the clean-up related efforts of the federal Emergency Management Agency, FEMA; the Dept. of Health and Human Services, HHS; Ohio EPA, Ohio Emergency Management Agency, the Pennsylvania Department of Environmental Protection, as well as Norfolk Southern. This approach is used in situations where multiple agencies need to work together. In this case, the response includes federal, state and local agencies across multiple states.
Featured image: Hearing of the U.S. Senate Environment and Public Works Committee on the Norfolk Southern train derailment February 3, 2023 in East Palestine, Ohio. March 9, 2023 Washington, DC (Photo courtesy Senate Environment and Public Works Committee)
Environment News Service (ENS) © 2023 All Rights Reserved.