WASHINGTON, DC, May 19, 2023 (ENS) – Eight guests from the Ukraine Prosecutor General's Office are in Washington this week for a series of training and study sessions at the U.S. Justice Department on the investigation and prosecution of environmental crimes, including crimes committed in the wake of Russia's unlawful invasion of Ukraine.
The U.S. Justice Department's Environment and Natural Resources Division's Environmental Crimes Section hosted the Ukrainian prosecutors.
"This training on investigating and prosecuting environmental crimes is just one part of our efforts to hold accountable under law those who bear responsibility for the Russian regime's brutal crimes," said Attorney General Merrick Garland.
"The Justice Department will work with our Ukrainian partners to hold the Russian regime accountable for the atrocities it is committing in the course of its unjust war in Ukraine," Garland said.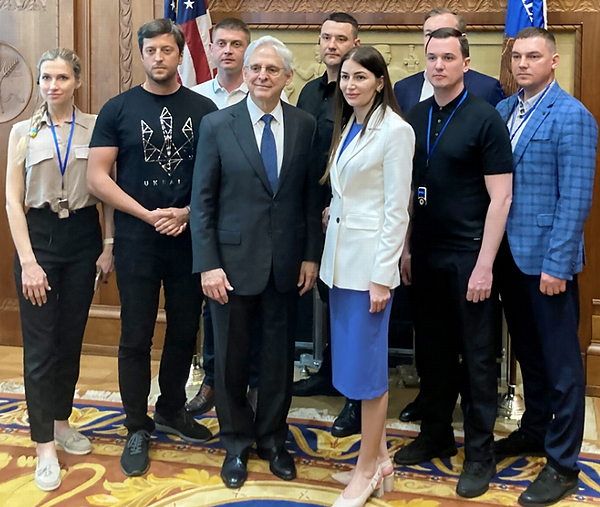 The study visit began on Monday and concluded on Wednesday. Attorney General Garland welcomed the group on Wednesday, as the study visit is a part of a broader collaboration between the Justice Department and the Ukraine Prosecutor General's Office.
The two departments entered into a Memorandum of Understanding when the Attorney General and Ukrainian Prosecutor General Andriy Kostin met in Washington in September 2022.
The Justice Department and Prosecutor General's Office committed to cooperate on investigations and prosecutions related to potential war crimes and related criminal offenses committed following or during Russia's invasion of Ukraine.
"The MOU we signed today allows us to step up our common efforts in ensuring accountability for international crimes," said Prosecutor General Kostin. "Through establishing a formal framework of cooperation, we will strengthen effective investigation and prosecution of crimes committed by Russia in Ukraine and provide a measure of justice to victims."
Pursuant to that agreement, the Environment and Natural Resources Division has been providing requested assistance to Ukraine as it explores several avenues to hold Russia accountable for the environmental toll of its invasion.
The Russian invasion of Ukraine, which began on February 24, 2022, has led to serious long-term environmental consequences that threaten human and planetary health.
Explosions cause physical destruction and inflict toxic damage. Particles of toxic substances, such as lead, mercury and depleted uranium, are released into air, water, and soils with every explosion. When ingested, explosives like trinitrotoluene (TNT), dinitrotoluene (DNT), and RDX, known as cyclonite or hexogen, have caused seizures and other health issues in military field personnel.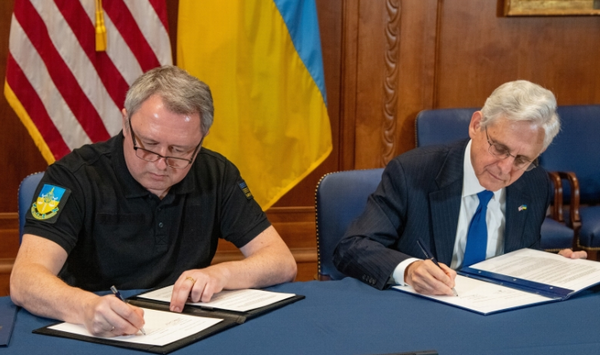 Fights in heavily industrialized areas lead to spills of tailings and fuel that have poisoned parts of Ukraine, Europe, and Russia. Bombed buildings release carcinogenic dust for decades.
Heavy metals and chemicals penetrate underground waters and poison water sources, killing all life. Destruction of civil infrastructure has already left more than four million people without access to pure drinking water.
More than 12,000 square kilometres (4,633 square miles) of Ukraine's nature reserves are now a war zone. Rare species have suffered great losses, birds have had to abandon their nests and change their migration patterns. Decades-long conservation projects have been destroyed.
Soils in areas of military conflict can no longer be used for agriculture, because the plants would absorb pollutants.
And war increases the risk of nuclear accidents. Power shortages at nuclear plants and fights near nuclear stations may result in disasters.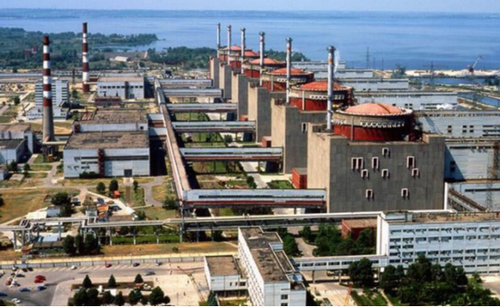 Ukrainian President Volodomyr Zelensky told a meeting of the G20 nations in November 2022, "No one has the right to blackmail the world with a radioactive disaster. This is an axiom. However, in front of the eyes of the whole world, Russia has turned our Zaporizhzhia Nuclear Power Plant into a radioactive bomb that can explode at any moment. Where will the radiation cloud go? Perhaps towards the territory of the EU. Maybe to Türkiye. Maybe to the Middle East. I consider as criminal even a hypothetical possibility of such a scenario!" Radiation safety must be restored."
Military emissions of the greenhouse gas carbon dioxide (CO2) reach hundreds of million of tonnes and undermine the goals of the Paris Agreement on climate.
The Ministry of Ecology and Natural Resources of Ukraine established a hotline to accept citizen reports of Russian environmental destruction; it published weekly updates. In February 2023, after one year of war, based on reports to the hotline, "The Guardian" newspaper reported that:
Ukraine has had to absorb or neutralize the impact of 320,104 explosive devices.
Almost one-third of the country (174,000 sq km) remains potentially dangerous.
Debris includes 230,000 tonnes of scrap metal from 3,000 destroyed Russian tanks and other military equipment.
160 nature reserves, 16 wetlands and two biospheres are under threat of destruction.
A "large" number of mines in the Black Sea threaten shipping and marine animals.
600 species of animals and 880 species of plants are under threat of extinction.
"We receive information from all over, all the sources, and the biggest numbers we receive, of course, from the victims and survivors of alleged war crimes committed by Russian Federation," Prosecutor General Kostin told "The Washington Post" on April 12.
To monitor and record the character, magnitude and significance of conflict-related environmental impacts, the United Nations Development Programme, UNDP, and the Government of Sweden are working with state institutions to set up a Coordination Centre for Environmental Damage Assessment, with an initial investment of US$6.7 million during 2023-2025.
UNDP interim Representative Jaco Cilliers said the environmental consequences of the war are widespread and devastating. "The use of explosive ordnance in urban areas, for example, is creating vast quantities of debris and rubble, which can cause air, water, and soil pollution," he said.  "Damage to light industry and environmentally sensitive infrastructure such as water treatment plants and water sanitation utilities is also creating problems that can take years to remediate.  This new Centre will both monitor and explore ways to remediate the impacts."
Ambassador of Sweden to Ukraine Tobias Thyberg said it is of critical importance to monitor and document the war's environmental impacts.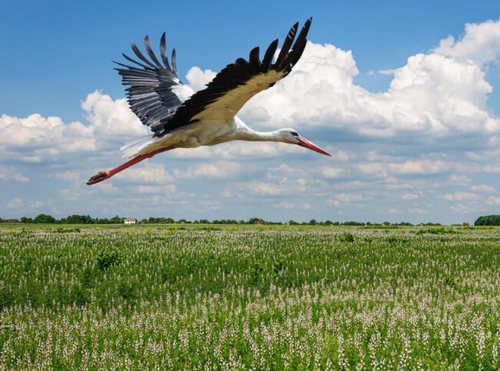 "These impacts can harm the health and well-being of both humans and wildlife, disrupt ecosystems, and contribute to climate change," Thyberg said.  "While large resources and funding now need to go toward Ukraine's efforts to defend itself against Russia's aggression, it remains important to also continue funding environmental protection and conservation efforts, to ensure that Ukraine can continue protecting its environment while defending itself against Russia's illegal war. We hope the Centre will help raise awareness of these factors, inform the recovery process with facts on the ground, and help to conserve Ukraine's natural heritage for future generations."
Accurately estimating the total environmental damage done during the war is not possible until the fighting has ended, but preliminary data shows that it will take Ukraine's natural world at least 15 years to recover.
Back in Washington, DC, U.S. and Ukrainian prosecutors and experts provided overviews of Ukrainian and U.S. environmental crime statutes and enforcement programs, shared investigative techniques, considered relevant case studies and identified additional areas for collaboration during training and study sessions.
Joining the Environment and Natural Resources Division for the training were personnel from the Department's War Crimes Accountability Team, which is based in the Criminal Division's Human Rights and Special Prosecutions Section.
Attorney General Garland launched the team in June 2022. It is intended to centralize and strengthen the Justice Department's ongoing work in the United States to hold accountable those who have committed war crimes and other atrocities in Ukraine.
The U.S. Environmental Protection Agency and the U.S. Coast Guard also participated in the training and study sessions at the U.S. Justice Department on the investigation and prosecution of environmental crimes.
Support was also provided by the Atrocity Crimes Advisory Group, ACA, which is funded by the U.S. State Department, the European Union, and the Government of the United Kingdom.
"This initiative will directly support efforts by the Ukrainian Office of the Prosecutor General to document, preserve, and analyze evidence of war crimes and other atrocities committed by members of Russia's forces in Ukraine, with a view toward criminal prosecutions," U.S. Secretary of State Antony Blinken said. "The ACA is an essential element of the United States' commitment that those responsible for such crimes will be held to account."
Featured image: The village of Novoselivka, near Chernihiv, Ukraine, was heavily bombed early in the war, April 22, 2022. (Photo by Oleksandr Ratushnia courtesy UNDP Ukraine)
Environment News Service (ENS) © 2023 All Rights Reserved.